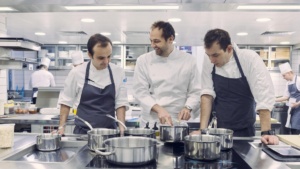 Are you looking for a fresh start this year?
Is cooking your passion? Would you like to work as part of a vibrant, self-motivated team in an outstanding nursery in the center of Newcastle?
This post entails working in partnership with the Head Cook in catering for 101 children aged 6 months to 5 years. The daily menu includes a light mid-morning snack, lunch, afternoon snack, and tea. Besides meeting daily nutritional requirements, meals served should provide a balanced diet for the children and be attractively presented.
The nursery cook is responsible for providing high-quality catering service to the organization where necessary providing special diets including the dietary requirements of vegetarians and vegans because the cook has overall responsibility for the general organization of the kitchen.
The hours are 37.5 per week. 8.30 am to 4.45 pm.
DUTIES AND RESPONSIBILITIES:
To plan a nutritionally well-balanced menu, which incorporates the daily dietary, needs of the very young child to be approved by the Manager.
To provide special diets for children as directed.
To receive and check deliveries of stock ordered and ensured it is stored correctly.
To operate high standards of hygiene and cleanliness at all times by ensuring strict adherence to the provisions of relevant food safety and health and safety instructions and by maintaining all associated records. To be responsible for reporting details of accidents within the kitchen to management staff.
To be responsible for the ordering of food supplies within the given budget. Food should be stored correctly.
 And provide cover for the Head Cook during annual leave and whenever possible, during absences due to sickness.
To be responsible for the care and maintenance of all kitchen equipment and resources.
To establish and develop good working relationships with colleagues and parents encouraging dialogue, cooperation, and partnership.
To liaise and develop professional contacts and develop co-working practices with colleagues from other agencies who relate to the establishment e.g. Dietician, Environmental Health Officer.
Attend and participate in meetings as required by the Manager and Executive Committee, share information with colleagues, and show a willingness to give and accept support.
To constantly re-appraise professional performance and to participate in training courses. To keep informed of current food, health, and hygiene legislation and practices.
To participate in reviews of the establishments and their policies and philosophy and the production of development programs.