Kitchen and Restaurant Manager
Kitchen and Restaurant Manager required for busy Teesside catering facility.
We are now recruiting on behalf of an established facilities management company for an experienced and dynamic Kitchen and Restaurant Manager to take charge of catering operations at their latest B&I site. You will use your outstanding interpersonal skills to deliver excellent customer service in line with the core values of the company.
Responsibilities of the Kitchen and Restaurant Manager:
Monitoring all health and safety procedure and keeping appropriate records in line with government legislation
Monitoring feedback to deliver a constantly improving service as per Client Service Level Agreements
Delivery of support services
Maintain and monitor food production and service, equipping staff with correct tools and training to complete tasks
Implement and update processes as required including all documentation
Working with clients and suppliers and to deliver the best service available
Controlling and recording stock
Menu planning in line with budgets and forecasts
Coordinating staff holidays
Informing customers and training staff on allergens, dietary requirements and portion control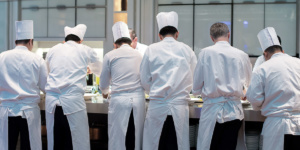 The successful candidate will:
Have a demonstrable history of delivering a similar service during their career
Have a minimum Food Safety Level 2
Evidence strong leadership skills
Evidence professional catering qualifications
Have a full driving license to enable them to travel to other sites to support
Be a self starter with a drive to improve
Be a people person with great communication skills
The role of Kitchen and Restaurant Manager would suit a catering manager seeking a new challenge or a head chef looking to step into a different role in B&I. This is a rare opportunity given the current climate and we would be interested in hearing from any candidate who feels that they meet all of the criteria. Good luck and we look forward to hearing from you.