Head Chef – Immediate Start – Nottingham City Centre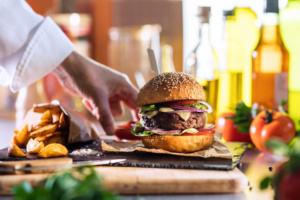 Head Chef – Immediate Start – Nottingham City Centre
Adkins & Cheurfi are currently recruiting on behalf of our client for a talented and professional Head Chef to run the kitchen in a new restaurant in Nottingham City Centre.
In order to be a success in this position, you will be expected to be flexible enough to adapt to different situations and pick things up quickly. The restaurant is a new location for the chain of burger bars and the Head Chef will have the chance to maintain their high standards and bring their excellent reputation to a new region. Starting in the North East, the company has expanded to new areas and is looking to keep expanding as each new location becomes a success.
In order to be successful in this role, you will need to have a vast array of hands-on experience in the kitchen during service, displaying the ability to cope during the busiest hours.
The successful candidate will:
Have excellent time management skills
Be motivated with the ability to motivate others
Be a great team player
Have good business acumen
Have a passion for producing good food
Be able to assist with the recruitment of kitchen staff
Be able to maintain high standards set by previous restaurants in the chain
The position is offering a salary of £28,000, based on 45 working hours per week. This can be spread across 4 or 5 days and the Head Chef will be paid overtime for anything worked over 45 hours.
If you are interested in the position and would like the chance of an interview, or would just like a confidential chat discussing the details of the job – this position is offering an immediate start so send in your CV today to make sure you don't miss out on this fantastic opportunity.