The Chef de Partie supports the Head Chef and ensures that they are always operating in a correct and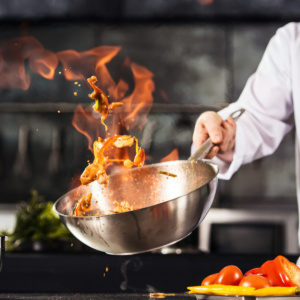 professional manner within the Kitchen. You'll be responsible for the operation and organisation of the Kitchen by setting daily production levels and guidelines as well as any other tasks delegated by the Head/ Sous chef. By adhering to all Health & Safety regulations and procedures, you'll set a high standard of food safety in the daily operations.
Their standards and expectations are high, but they'll give you all the support you need to flourish. As hosts of the British Masters 2017 & 2020, they have a great deal of knowledge and experience in catering large events. Their training and development prospects gives you the opportunity to learn and progress in order to build an exciting career.
Benefits
In return for your hard work as a Chef De Partie you'll learn every aspect of working in a busy kitchen and will receive some great benefits including:
Competitive salary alongside excellent tips
Minimal late evenings by industry standard – majority finished by 10pm
20 days annual leave rising with length of service
Up to 25% discount for yourself, friends and family when dining in our clubhouse.
Friends and family accommodation rates
Full access of our golf facilities
Gym membership
Learning and development opportunities
About You
As a Chef De Partie ideally you will have both fine dining and conference and banqueting experience and thrive at working in a busy kitchen environment. Having a great knowledge and passion for food and drink is essential. You'll have great time-management skills and a strong customer focus when dealing with both internal and external parties. You will need to have exceptional interpersonal skills and a good attention to detail, which will be evident through paperwork completed, organisation of department and sufficient stock levels. Be able to demonstrate effective leadership and management skills by coaching, inspiring and motivating the team.