Sous Chef – Sunderland
Sous Chef – Sunderland
We are recruiting for a Sous Chef – Sunderland to work in a city centre hotel within a few feet of the local Metro station.
The Sous Chef – Sunderland – will have previously worked at Senior CDP level or above and will be looking for the next move in their career. Although this is working in a Hotel, a chef with a strong career in restaurants or fresh food pubs could also suit this role.
The hotel consists of a Restaurant, Bar, Banqueting, Functions and Weddings and the Sous Chef – Sunderland will be working between all aspects of the Hotel. Reporting to the Head Chef the ideal candidate will have a flair for cooking and a modern outlook on local cuisine, as well as being comfortable working from menu specifications.
This is a responsible, creative job where you can really flex your talents.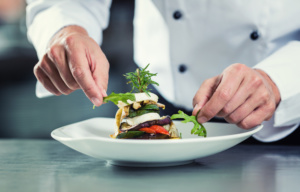 Key responsibilities:
Running the kitchen when the head chef is away
Provides guidance to junior kitchen staff members, including, but not limited, to line cooking, food preparation, and dish plating
Oversees and organizes kitchen stock and ingredients
Ensures a first-in, first-out food rotation system and verifies all food products are properly dated and organized for quality assurance
Hires and trains new kitchen employees to Hotel and kitchen standards
Supervises all food preparation and presentation to ensure quality and restaurant standards
Works with head chef to maintain kitchen organization, staff ability, and training opportunities
Verifies that food storage units all meet standards and are consistently well-managed
Assists head chef with menu creation
Coordinates with restaurant management team on supply orders, budget, and kitchen efficiency and staffing
Ensuring your brigade has high culinary standards
Helping create new recipes and write menus
Skills required:
A flair with ingredients
An ability to stay calm when the pressure mounts
Strong leadership skills to motivate your brigade of chefs
First-rate culinary skills
If you believe this is the role for you, please do not hesitate to contact the team today