Junior Sous Chef – North Yorkshire
Junior Sous Chef – North Yorkshire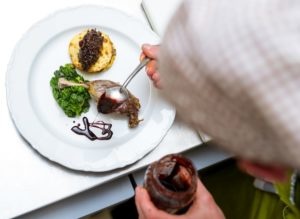 Adkins & Cheurfi are recruiting x6 Junior Sous Chefs to work between five separate locations within North Yorkshire.
The five locations are part of a well respected and well known fine dining hotel and restaurant chain based in Yorkshire, the locations include Cleveland, Moulton, Thirsk and Wellburn.
Predominately working within one of the five locations, the ideal candidate will have the opportunity to move around within the company to the companies other properties, as well as locations in Harrogate and York itself.
The properties include small boutique hotels, Gastro Pubs and rosette restaurants, with a focus on fine dining, local produce and fresh food.
Offering a starting salary of £24,000 + plus tips, the company offers a 48-hour working week, with 2.5 days off guaranteed, every week. With a mixture of straight and split shifts, the company believes in a fair work/life balance for all of their team.
Due to many of these properties being in rural locations, we recommend your own transport would be essential, as our client currently offers no live-in accommodation.
Candidate requirements –
Responsible for managing staff
Capable of working to a very high standard and maintaining standards
Team leader with excellent motivational attributes
Health, Hygiene, Safety and good working practice leader
Ability to cook, prepare, train and create fresh food dishes with quality local ingredients
Hardworking and enthusiastic individual
Prepared to work early mornings and weekends
If you would like to learn more about these positions please do not hesitate to contact the team today.