Junior Sous Chef
permanent
Adkins & Cheurfi are looking for a Junior Sous Chef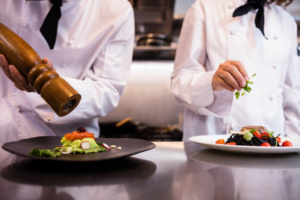 Working alongside a well-regarded team and Head chef the Junior Sous Chef will be offered a strong base salary of £26-£28k per year. The client is based in Ponteland with access to public transport links.
Experience at Chef de Partie level or above, preferably with experience at 1* Rosette level or above would be ideal and with straight shifts and the opportunity to only work two nights per week, this is a fabulous chance to learn, train and get promoted, without the burnout of a normal restaurant fine-dining kitchen.
Main Responsibilities / Key Accountabilities:
• To actively be an integral part of the Kitchen Management team with the Head Chef
• To operate and participate in the efficient smooth running of the Kitchen.
• To prepare, cook and present for service any meals required to the standards set by the Head Chef
• In the absence of the Head Chef and Senior Sous Chef be accountable for the smooth running of
the kitchen, including the preparation, cooking and presentation of all foods to the agreed
standards.
• Keep an overall check on the accuracy of standards of all food deliveries.
• To ensure that all statutory elements of health and hygiene are adhered to and maintain the
premises in a safe and healthy condition and to a high standard.
• To be responsible for your own continuing self-development, undertaking training as appropriate.
• To undertake other duties appropriate to the post as required.