Junior Sous Chef
Junior Sous Chef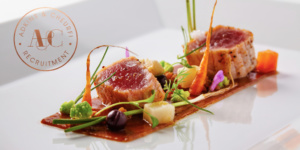 Adkins & Cheurfi are searching for a Junior Sous Chef to work in a beautiful restaurant based on the stunning Northumberland Coast.
Our client is a famous seafood restaurant that is renowned for its wonderful food and picturesque setting., as they look for their next Junior Sous Chef.
Looking over the North Sea, just a stone throw from the beach, our client is a family owned business that offers live-in accommodation, a flat just along the beachfront, for only £250 a month, all bills included if required.
Offering a competitive salary of £24,000 per year this is a fantastic opportunity for a Junior Sous Chef to join a fabulous business and loyal workforce.
Candidate requirements –
Responsible for managing staff
Capable of working to a very high standard and maintaining standards
Team leader with excellent motivational attributes
Health, Hygiene, Safety and good working practice leader
Ability to cook, prepare, train and create fresh food dishes with quality local ingredients
Hardworking and enthusiastic individual
Prepared to work early mornings and weekends
If you would like to learn more about these positions please do not hesitate to contact the team today.