Healthcare Chef
Healthcare Chef
We are recruiting chefs to work relief shifts at healthcare and educational sites across County Durham. Do you have experience working in a school, nursery, college or healthcare kitchen? Are you interested in working across a variety of sites for excellent hourly rates? Do you prefer day time hours and weekdays?
As an Adkins Cheurfi relief chef you would be:
working alongside the existing kitchen staff to produce high quality, fresh food for students, residents or staff
filling out all temperature checks and relevant health and safety records as required
managing stock
acting on customer/staff feedback to improve on quality
cleaning down
ensuring high standards of hygiene are maintained across the kitchen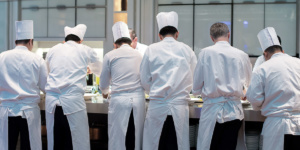 Skills and attributes of a Healthcare Chef:
minimum two years experience at CDP level or as a chef in a healthcare or education kitchen
a sound working knowledge of soft food requirements, allergens and 'free from' diets
good communication skills
a positive, proactive attitude to work
a punctual and reliable individual
an in date DBS certificate or willingness to undergo checks with the expectation that they will return 'clean' results
flexibility
What are the perks of temp work?
excellent hourly rates
24/7 career support
free parking
free uniform
a diverse working week
holiday pay
staff incentives
If you are interested in this Healthcare Chef role please apply today.