Head Chef – Immediate Start – Alnwick
Head Chef – Immediate Start – Alnwick
Adkins & Cheurfi are currently recruiting for a talented Head Chef to manage the kitchen at an established and respected pub just outside of Alnwick.
We are looking for someone who is able to manage a young and enthusiastic small team of staff and capable of maintaining standards in the kitchen at all times. With it being a small team, there may be times throughout the day where you are the only chef in the kitchen, therefore, the successful candidate will have a composed mentality and the confidence that they can manage on their own.
The successful candidate will have total control over the menu and have the freedom to regularly change things up. The pub is based on a farm so the chef will be working with a variety of local, fresh and seasonal meats every single day. It is a family run business, ran out of a passion for the trade and so the chance for the Head Chef to experiment in the kitchen is something they are very enthusiastic about. The position would be a perfect match for a chef who is keen to try new things and get creative to keep things interesting on a day to day basis.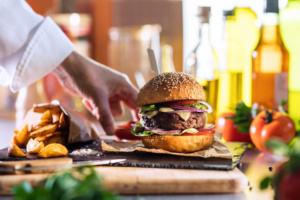 The successful candidate will:
Be creative, with the confidence to take risks and change things up
Be able to effectively motivate an enthusiastic team of kitchen staff
Have a strong sense of initiative to recognise when a job needs doing
Be excited by the chance to work with fresh, local meats on a daily basis
Be capable to run a kitchen, potentially on their own at times and have the composure to keep calm at all times
The position is offering a negotiable salary of around £30,000 per year, working 45 hours across the week, spread over 5 days.
If you are interested in the position and would like the chance of an interview or even if you're just intrigued to know more about the specifics of the job, send in your CV today.