Our Client is a privately owned five-star country house 65-bedroom hotel, spa, and golf course. Converted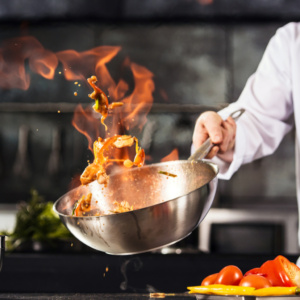 to a Hotel in 1999 by Sir Hugh and Lady Anna Blackett, the Hotel was purchased by Sir David and Lady Sylvia Harrison and Family in August 2020.
Since the takeover in 2020, a programme of refurbishment and repositioning of the hotel has taken place, with further investment to follow. The direction of the business is to achieve 5 Red Star status within the next two years. As Head Chef you will be part of the repositioning of the Hotel from its previous status as a volume wedding venue and hotel to become a luxury property offering a high-level service with a broad product offering that endears guests to stay for several nights.
The business is now in need of a Head Chef to oversee the existing team within the Kitchen team. As Head Chef you will lead a team of Sous Chefs, Pastry Chef, Junior Sous Chefs, Chef de Partie, Commis and Kitchen Porters across all sections of the kitchen, including the Golf Club Restaurant, ensuring that the produce is prepared to the agreed standard, that cleanliness is in line with our 5 star rating from the food standards agency. Liaison with suppliers and contractors is a key part of the role along with a full engagement in the use of our procurement systems and processes. A strict adherence to our HACCP principles is a must, from fridge management and date labelling to effective vacuum packing and blast chilling. Whilst the Head Chef is the creative force for all menus, you will be expected to engage with your team and the Front of House leadership to contribute menu ideas for each new menu.
You will be expected to form excellent relations with the FOH team and the Reception, they will supply you with key information on guests. In particular notes on allergies that you must be aware of as you prepare their meals.
Duties and responsibilities:
Oversee the effective daily running of the Kitchen operations at the hotel including managing the chefs and Kitchen porters to ensure daily and weekly cleaning tasks are completed without fail.
Create and develop menus for the 9 different restaurants/bars on site.
Ensure daily records of food safety are kept, including fridge temperatures, hot holding, blast chilling.
Create menus to meet the needs of the business, fully costed in advance with all allergen and HACCP information detailed and recorded.
Create menus to meet the needs of the business, fully costed in advance with all allergen and HACCP information detailed and recorded.
Ensure full compliance to estate operating controls, SOP's, Food Hygiene policies, H&S procedures, GDPR, Staff & Guests Welfare, fire regulations.
Conduct yourself in a professional manner at all times with guests, members, staff and suppliers.
Work with the General Manager to resolve any operational challenges or guest feedback issues.
Attend regular HOD with General Manager to analyse business performance and address issues collaboratively.
Develop improvement plans and where necessary carry out costs savings, while maintaining customer service levels.
Create a collection of food suppliers from the local area and further afield if required, whilst helping to create a Kitchen Garden onsite.
Lead the recruitment of the team with support from the wider management structure.
Ensure consistent coverage in the kitchen operation and that all team members are trained and briefed on the menu and food safety requirements
Be aware of our competitors locally and nationally to ensure that we are staying ahead in terms of customer experience and enhancements
Responsible for safeguarding the quality of operations both (internal & external audits).
Responsible for legalisation, Occupational Health & Safety Act, fire regulations and other legal requirements including GDPR.
Prerequisites:
A passion for using the best produce available and the ability to use it, profitably to give our guests a great experience. Available to work when needed, including weekends, holidays, and nights. This role will suit someone with large Hotel operations experience, preferably with multi outlets and having worked in or lead a three-rosette level or higher.
Education:
Food Safety Level 3 certification.
Experience:
The ideal candidate will have 3-4 years industry experience as Head Chef or Senior Sous Chef you will have worked in a luxury Hotel setting.
Duties:
– Oversee all aspects of the kitchen operations, including food preparation, cooking, and presentation
– Create and develop innovative and delicious menu items
– Ensure the highest quality of food is served to customers
– Train and supervise kitchen staff, including chefs, cooks, and other kitchen personnel
– Monitor inventory levels and order supplies as needed
– Maintain a clean and organized kitchen environment
– Adhere to all food safety and sanitation regulations
Requirements:
– Proven experience as a Head Chef or similar role
– Extensive knowledge of culinary techniques and practices
– Strong leadership and management skills
– Excellent communication and interpersonal skills
– Ability to work in a fast-paced environment and handle pressure
– Creativity and passion for food
If you are a talented and experienced Head Chef looking for an exciting opportunity to showcase your skills, we would love to hear from you. Join their team and be part of a dynamic culinary experience!
Please submit your resume along with any relevant certifications or references.