Events staff
Events staff required for varying locations across Newcastle.
It's that time of year again…when the temperature outside drops, the hospitality trade heats up. We are looking to add to our team of accomplished front of house superstars due to high demand in the Newcastle area.
Soooo… what skills can you bring to the table? Are you a fully trained silver service waiter? Perhaps you are a top-notch mixologist or the fastest food runner in the North East. If so we want to hear from you.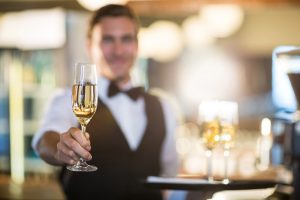 At Adkins and Cheurfi we are on the lookout for extraordinary talents and we pay accordingly. The successful applicants will be:
immaculately presented at all times
experienced in waiting on and bar work
silver service experience is highly desirable
a natural people person who can talk to anybody
a dynamic individual who can hit the ground running
punctual, reliable and able to get to various locations either by car or public transport
in possession of excellent communication skills both written and verbal
able to carry out instruction to the highest possible standard
a total perfectionist
Why should you apply? Apart from joining the most accomplished and talented events staff team in the North East, you will:
receive weekly pay, rates depending on experience and ability: paid directly into your bank.
be eligible for financial incentives
receive free training and advice
receive free uniform depending on location
gain further valuable events experience
If you think you are fantastic enough to get involved then make your move…