Chefs Of All Levels
permanent
Job description
Adkins & Cheurfi are recruiting experienced Chefs for a stunning lakeside hotel in Ullswater, Cumbria.
Job Title
1 Sous chef, 2 Junior sous, 3 Chef De Partie 1 Pastry Chef
Salary 
£26000-£30000
The role:
Some people say the sous chef is the heart of the soul of the kitchen, because the head chef has other fish to fry. One thing's for sure: we're looking for a talented, motivated, and organized individual who can help make sure our kitchen runs like clockwork. You must be passionate about food with previous experience of working in a similarly high-quality environment.
What you'll do:
· Support and train chefs from the chef de partie and below
· Prepare food in areas of the kitchen assigned by a superior and carry out cleaning and any reasonable duties requested
· Manage the running of the kitchen when required or asked to do so
· Help ensure a safe environment for both staff and guests and adhere to the company's health and safety policy and procedures
· Assist the Head Chef in the effective and efficient organization, supervision and control of the kitchen operation
· Prepare, cook, and portion all dishes to the hotel's standards of quality and quantity
· Report for duty punctually, wearing the correct uniform and protective clothing and adhering to specified grooming standards
What you offer:
· Knowledge of ingredients and the ability to use them in a creative way
· Leadership skills – the ability to assign tasks and motivate people
· Belief in being a team player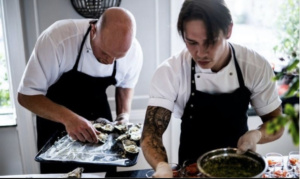 · Excellent time management skills
· Previous experience of working in busy kitchen
Key Skills required:
· Good team player
· Good leader/staff motivator
· Decision maker
· Calm under pressure
· Good communication skills
· Desire and ability to train others