Assistant F&B Managers – Jesmond
permanent
Adkins & Cheurfi Recruitment are hiring an Assistant F&B Manager on behalf of a boutique, 4* star hotel in Jesmond, Newcastle Upon Tyne.
The Assistant F&B Manager will supervise and ensure the smooth running of the weddings, events, restaurant, bar and room service at the venue, maximising guest satisfaction and food and beverage profitability.
Responsibilities: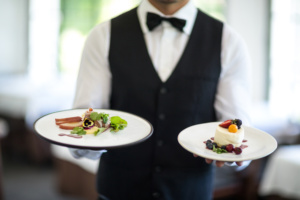 • Supervise all Food and Beverage departments of the hotel, including the restaurant, bar, functions and private dining.
• To act as a leader within the Food and Beverage department, setting an example to others in excellent customer service standards and cleanliness.
• To assist in the ongoing training within the Food and Beverage departments, to maintain service standards.
• Deal with customer queries and complaints effectively and in a timely manner, taking action to remedy and improve standards.
• To assist in the management and maximisation of the financial contribution of the Food and Beverage department in line with budget expectations.
Duties:
• Ensures that guests receive quality service by providing work direction to the Food & Beverage Front of House Team
• Ensures that all areas of the Food & Beverage department are ready to welcome guests at any times
• Keeps all areas of the department, including back of house, clean, tidy and organised at all times
• Assists the Food & Beverage Manager with the recruitment, training and development of staff within the department
Tasks:
• Works actively to minimise complaints from guests
• Attends meetings and trainings required by the Food & Beverage Manager
• Keeps up to date with current alcohol and liquor licensing laws
• Accept flexible work schedule necessary for uninterrupted service to hotel guests • Continuously seek to improve knowledge of own job function.
• Reasonably carry out any other tasks requested by the company
• Provide Duty Manager cover
If you believe you would be a great fit for this role, don't hesitate to apply- we are conducting interviews in the coming weeks.