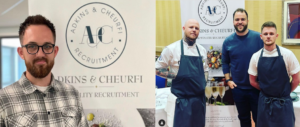 We are halfway through the year here at Adkins & Cheurfi Recruitment and what a 6 months it has been, as communicated in our previous newsletter we felt that this could be a huge year for us all and we weren't wrong! It feels as though the Hospitality sector is back to where it was pre Covid, and we don't expect the demand and rush to slow down anytime soon. Your support so far this year has been second to none and we can't thank you enough for that, the second half of the year is going to be just as 
demanding with the football and rugby season starting up again soon and the Christmas period also not far away and we are going to need your continued support! We are still running our refer a friend incentive, so if you know of any chefs who want to come on board with us you will get your referral fee! Tell them to email jak@adkinscheurfi.co.uk and we will look to get them registered and working with us.
As the demand for chefs all over the northeast continues to grow, we felt it was needed that we brought in extra to help with this growth. Christian Walker has come on board with us and will be looking after Chefs and Clients in the South Region. Christian is a highly experienced chef with over 15 years' experience! He has gone full circle with us, from once being on our books working
with clients that most of you work with now to becoming a consultant within the business. We're positive that you will welcome him warmly and have no doubt that he will be in touch with you offering shifts at new and existing clients. If you need to get in touch with him about anything you can contact him on 07496136378 or at christian@adkinscheurfi.co.uk 
Jak will now be looking after all clients in the North Region, this is from Sunderland all the way up to Scotland. He is looking to gain more clients in Scotland over the coming months, one of these which is currently happening at the moment is the 150th Open at St Andrews, where a group of chefs are up there now at one of the most prestigious golf events on the planet. Again, Jak will look to continue to grow the Adkins & Cheurfi footprint in the northeast and needs your continued support with this. If you need anything from Jak, you can get in touch with him on 07535064303 or at jak@adkinscheurfi.co.uk
As always Jak and Christian will be in touch weekly to discuss your availability, feel free to send over any spare days that you also have.
Regarding the growing team if you know of anyone available for Kitchen porter work or just general kitchen work, please just let me or my hospitality colleague, Rachel Stockdale, know and we will both be delighted to help.
As always Dean and Melika are always on hand to help with anything you need and you can always contact them direct.
Thank you all again for your help so far this year, we will continue to push to make this a massively successful year for us all!
Jak & Christian