NECTA North East Chef of the Year
A great day was had by all at the Hilton, Newcastle at the beginning of May where we celebrated the top culinary talent of the North East. Congratulations to the winner, Chef of the Year Phil Pringle who did himself proud and knocked the judges off their feet with a trio of pork main to die for. Phil, Curriculum Leader in Hospitality and Tourism at Newcastle College was up against some seasoned industry professionals from destination dining properties like Peace and Loaf but made the biggest impression on the day. Well done to Phil and we wish him all the best for the future.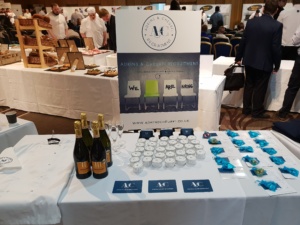 Other highlights included the NECTA Sugercraft area which attracted entries from around the country and was really interesting to see. The atmosphere was great and we were particularly impressed by the team competition. Standards, as ever were sky high. It was great to get out of the office and reconnect with the guys in the kitchen, which is what we are all about at the end of the day. A massive thank you for everyone who stopped by to say hello to us on our stall. For those of you who missed out on an Adkins Cheurfi cupcake and glass of bubbles…see you next year.