Adkins and Cheurfi are proud to sponsor the NECTA North East Chef of the Year 2018 event, taking place at the Hilton, Gateshead on the 1st and 2nd of May.
Come along and say hello to us at the NECTA Hospitality Salon. Experience first hand the many classes and exhibitions happening this year. Whatever your bag, you will find something to whet your appetite and get your creative juices flowing with competitions including floristry, sugar craft and mixology. Classes are judged by some of the country's top chefs and showcase the region's culinary prowess to a wider audience. We are sure you will agree with us when we say that the North East has really come into it's own in the last few years with many exciting now restaurants, headed up by some truly talented chefs making headlines for all the right reasons.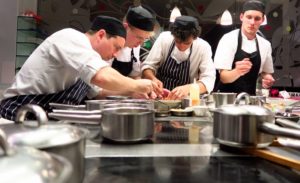 North East Chef of the Year is of course the main event and we look forward to seeing some familiar faces (and hopefully some new ones) contributing to this fantastic masterclass in culinary skill. We have had some memorable winners in the past and the standard on display never fails to impress.
So, put the date in your diary and come and see Adkins and Cheurfi, proud sponsors of  NECTA North East Chef of the Year 2018 at the Hilton, Gateshead on the 1st and 2nd May. Find us at our shiny new Adkins and Cheurfi stand, or wherever the mixologists are practising their craft.
Dean, Melika and Christine