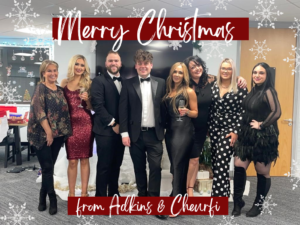 The whole team at Adkins and Cheurfi would like to wish all of our hard-working candidates and loyal clients a Merry Christmas and a very happy New Year! Looking back on 2021, we started the year unsure how we (and the whole of hospitality) would progress and develop in light of continuing COVID restrictions placing increasing pressure on our industry. Although many of our hospitality bookings were placed on hold, we adapted our business model with the introduction of a commercial and IT desk which saw us through the first quarter of 2021 and has continued to grow exponentially ever since. Throughout this tumultuous time, we have maintained our support for the Care and Education sector with a dedicated team in office who have supplied a continuous stream of reliable hospitality candidates across these sectors.
By summer, many restrictions had begun to ease across the UK which saw the return of hospitality at a booming rate and we were delighted to see the return of large sporting and music events across our region, which certainly kept our events desk busy!
We are incredibly grateful for all of our dependable candidates who have tirelessly committed to us throughout the year and for the continuing support from our clients, old and new, thank you!
We are excited at the prospects of what next year holds for our supplied industries and look forward to working with new candidates and clients alike, if you are interested in working with us, or for us, please get in touch and one of our consultants will be happy to assist you. Our phone lines will continue to be monitored over the Christmas Period if you need to get in touch with our consultants – 0191 5166118.
Merry Christmas and a Happy New Year to all, see you in 2022!