Chef Immediate Start-Live In
temp
Adkins and Cheurfi are looking to grow our team of Relief Chefs to work in ongoing contracts in the North of England.*
we are currently looking to recruit a number of live in Relief Chefs
across the North of England, we are looking to build a strong team of Relief Chefs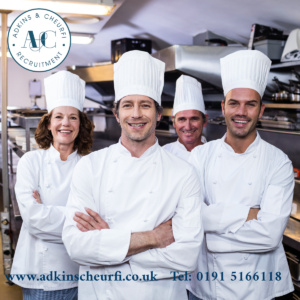 We offer excellent rates of pay and flexibility to suit your needs and lifestyle. We are proud to work with some of the most highly respected hospitality clients and supply chefs to fine dining restaurants and Hotels up to 3 Rosette standard.
*As a Relief Chef, your responsibilities will include:*
* Working in restaurants and Hotels with a variety of different menus
* Working on conferencing and banqueting at some locations
* Supporting weddings, events, and functions throughout the year
* Working within cafés and restaurants within office buildings and factories
*Skills and experience you'll bring to the Agency Chef role:*
* Due diligence with records, and health & Safety procedures
* Ability to follow recipe specifications and guidance from different venues
* Ability to work well in a committed team environment
* Flexibility
* At least 2 years kitchen experience
If you were interested in joining our relief team, we pay between £14.00 and £17.50 per hour. You have the option to join us Umbrella or LTD, we have immediate roles available.
If this is something that would be of interest to you please get in touch with your contact details and I will give you a call to discuss in more detail.