Happy Summer, everyone! We hope you are enjoying watching Harry Kane in the World Cup as much as Dean (if that is humanly possible). It is not only the England team who has a strong squad this summer; we have also added to our winning team. We would like to officially welcome Susan on board. Those of you regularly submitting time sheets will know that Susan has now taken over our finance department as Head of Payroll and Accounts. She comes to us from a career in finance and will be your point of contact for all pay related queries.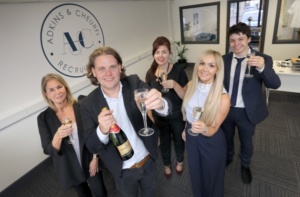 The second addition to the office is Liam Hogg. You may have heard on the grapevine that Liam supports Middlesbrough, despite this please make him feel welcome. Liam is just starting off on his journey to understand the hectic world of hospitality recruitment. We look forward to teaching him the modern, proactive approach to the industry that embodies the Adkins and Cheurfi brand. Before we know it he will be fully fledged consultant. Good luck Liam.
To accommodate the the growing team we have moved office (yes, that's right, again). You can now find us in F1 at the BIC in our new fancy pants office space overlooking the car park. We now have an area to conduct health and safety training on site and space for confidential chats. If you are passing by in sunny Sunderland be sure to pop in and say hello.
Thank you as usual for all your hard work this summer and come on England!
Dean, Melika, Christine, Susan and Liam