Christmas News 2018
Not to be cliche or anything but…..where has the year gone? We all knows that time flies when you are having fun and here we are, it's December again. As we decorate the office and write out the Christmas cards we can look back on another smashing year in the crazy business of hospitality recruitment. There are many highlights for us personally and both MD's have plenty to say on the matter:
Melika Cheurfi
'For me one the highlights of 2018 was welcoming Susan, Liam and Ashleigh to the company along with all the fantastic new chefs and front of guys we now have on the team. We started the year in the office as a small team of three and now we have doubled. Liam and Ashleigh are both getting on really well and it is so refreshing to watch them both develop their skills and to get their take on how to drive the business forward. Susan has made a massive difference to how we manage payroll and has developed an excellent relationship with all our guys.
I also want to express how grateful we are for having such a dedicated workforce of talented chefs and front of house professionals all doing a fantastic job day in and day out.  I really look forward to working with everyone in 2019 and expanding our team even further next year, watch this space!'
Dean Adkins
'For me the best bit was definitely winning Best Newcomer at the North East Business Awards, no doubt about that. We were really shocked and couldn't believe it when they announced our name as the winners. It felt like all the hard work we all put in day in, day out had been recognised and we had a brilliant night. Other than that I've got to say I was pretty proud seeing our branding advertised at St. James Park on Match of the Day, that was rather special.'
We have all learned alot throughout 2018 and Liam hit an all time high, when after months of threatening he actually carried out a complete tidy of the office cupboard (with phenomenal results). It stayed tidy for a whole three days and was a massive turning point in his career. In all seriousness Liam has enjoyed going on his client visits with Dean and Melika and learning how it all works. Carlsberg don't make Trainee Consultants but if they did….
Ashleigh and Christine have been concentrating on growing their individual desks. Ashleigh has enjoyed her early successes with some major events clients and is enjoying the fresh air up North. Christine is steadily building her contract catering network and both girls are looking forward to a manic Christmas.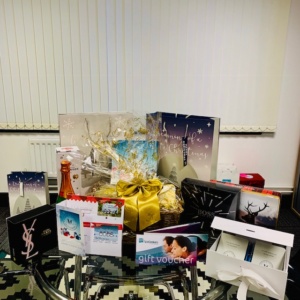 I think the main thing that has astounded us throughout 2018 is the superhuman effort put in by all our chefs, GA's, waiting and bar staff. Your commitment, professionalism and consistency has been key to another successful year for everyone and we seriously thank each and every one of you. Alongside our core group of regular temps we have a great new wave of talent out working and we are so proud of our staff it is unbelievable.
Staff Christmas Raffle
On Thursday, 13th December at 10am we go live on Facebook with the staff Christmas Raffle.
Prizes include a luxury spa break, hospitality tickets to see Newcastle V Man Utd, gift vouchers and more, so make sure you tune in to see if you have won. If you are passing through Sunderland in the next few weeks, call in and have a mince pie with us.
Wishing everyone a very Merry Christmas
Adkins and Cheurfi xxx