Care & Education
Well hello there and welcome to the first ever Care & Education department newsletter!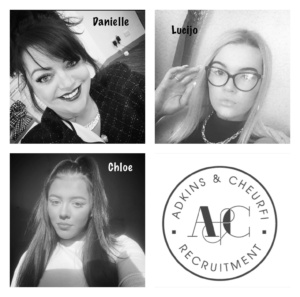 Firstly I need to just say WOW. What a start to year. This has been the busiest few months I have ever spent in a workplace. Its been crazy, fun, stressful and exciting all in three months.
The Care & Education division at Adkins & Cheurfi has really grew on an unprecedented level this year and as a result we have subsequently recruited two new team members to join the department to support. Firstly we saw Lucijo join us in January and she has been amazing ever since. A lot of you have possibly already spoken with Lucijo as she is now taking on the management of payroll in the department and also managing our kitchen assistants in the schools and residential homes. She's doing a fantastic job so far so do give her some kudos when you next speak to her. Going forward if you have any payroll queries you can contact Lucijo direct. Or if you are looking for work in the kitchen assistant area either in schools or in care homes Lucijo is definitely the girl to see. You can email Lucijo direct at lucijo@adkinscheurfi.co.uk or call 01915166118.
Secondly we welcomed the lovely Chloe who joined us in February. Chloe joins us as business administrator and makes sure all our back office procedures run smoothly. You will hear from Chloe when she is chasing you for any ID or compliance related documentation.  As our department has the responsibility of providing staff to sectors with vulnerable people – a responsibility we take very seriously – we regularly audit ourselves and ensure that everything is tip top and up to date. As part of our dedication to looking after our clients and candidates. We are now offering to provide free of charge Food & Hygiene Safety Level 2 training. This is an accredited certificate that can be added to your CV. You should of received an email inviting you take to take part. If you haven't got your email do get in touch with Chloe, as Chloe will manage this going forward.
We are also excited to announce our new Adkins & Cheurfi Uniform. This includes branded Chef jackets and polo t-shirts for our kitchen assistants. As candidates we are proud of you, you are part of the Adkins & Cheurfi team and we want to let people know! Again you should of received an email about this and how to get your new uniform. If you have missed this do let Chloe now as she will be managing the department uniforms. Chloe can be reached at chloe@adkinscheurfi.co.uk or by calling 01915166118.
I am proud to announce that we are now the biggest provider of staff to the Care & Education sector in the North East. We supply all the major care home groups and nearly every Education Academy Trust. And we are getting bigger – we are spreading our stronghold to reach areas as far as the midlands, Cumbria and the Scottish borders. We are taking over the entire North. This is not only because of the hard work of the team in the office but its also a huge credit to our candidates who go out and represent Adkins & Cheurfi with the utmost skill and professionalism. So from myself and the team in the office – A massive thank you.
Myself, well I continue on working directly with our specialised Chef team whilst managing the day to day running of the department with support from Dean and Melika. I am constantly on the hunt for new chef talent so feel free to contact me direct if you are interested in any of the temporary or permanent positions we have available. Or if you would like to recommend a chef to me – I am always open to suggestions. Contact me at danielle@adkinscheurfi.co.uk or call 07398739539.
We have so many more exciting opportunities coming the way in the next few months but I don't want to rattle on. So for now I shall just once again, thank you and well done.
Regards
Danielle