Hi All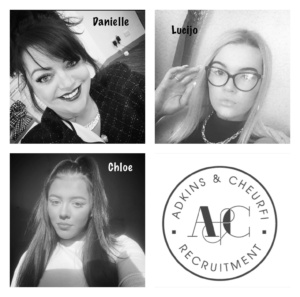 I hope everyone had a fantastic Easter Break. Our school candidates will still be enjoying the extended time off – lucky them.
Just a few updates to mention. Going forward all timesheets should be emailed to timesheets@adkinscheurfi.co.uk
Can I remind everyone to email chloe@adkinscheurfi.co.uk to complete your food safety certificates. And also for uniform request. We have both Adkins & Cheurfi  branded t-shirts and Chef jackets available.
We would like to announce our recommend a friend programme. If you recommend another Chef or kitchen assistant to us and they join the Care & Education team, once they have worked for us for 4 weeks, you get a £50 reward. Everyone's a winner! Recommendations should be emailed to me on danielle@adkinscheurfi.co.uk.
Were, also pleased to announce that we have recently secured 4 new care homes clients and 2 new schools in the past month. And we continue to grow on a weekly basis. We are now supplying staff to schools and care from the Scottish borders down to the midlands. And we are recruiting staff in all these areas too. If you reading this and are new to Adkins & Cheurfi you can register your details with us by clicking this link https://www.adkinscheurfi.co.uk/registration-form/
Just pop my name 'Danielle' in the consultant name box and this will ensure I receive it. We have a multitude of part time and full time positions in care homes and schools for Chefs, kitchen assistants, caretakers and cleaners. We would love to hear from you!
Have a lovely weekend everyone,
Danielle