Sous Chef – Fine Dining Experience – Newcastle
Adkins & Cheurfi are recruiting for an extremely talented Sous Chef to join the ranks at one of the most well-respected venues in the North East.
Given the client operates at such a high standard, it is essential that all candidates have hands-on experience working in a fine dining environment.
Providing the chance to work as a Sous Chef under one of the most well-known chefs in the region and offering a fantastic salary, this position comes with numerous benefits.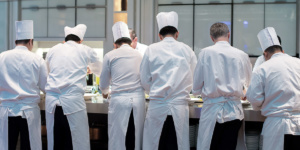 An example of some of the benefits available are:
Free car parking
Uniform provided
Free meals on duty
Service charge
Key Responsibilities
To assist the head chef in the day to day running of the kitchen and in their absence
To ensure the whole team is working to safe and legal practices
To ensure the training and standards are always kept
To ensure the staffing levels are kept to the correct business levels
To ensure all products entering and leaving the kitchens are to the set standards
To uphold the team SOP's given to you
To track, replenish and keep in date order the stock holding
To be pro-active with customer comments and complaints
To be aware of up to date modern trends and be "industry aware"
To identify areas of upselling opportunity and be proactive in increasing revenue generation for all areas of the business.
Key Skills, Qualities & Experience
The successful individual will be confident, self-motivated and present a professional persona in all circumstances.
Have a high level of creativity and reliability
The ability to demonstrate a strong customer service ethos and the ability to deliver consistently high levels of service delivery.
Knowledge and understanding of a procurement system would be advantageous
A flexible approach to work is required given the nature of the hotel business
Held a similar position within a quality graded establishment
Can produce several quality references
If you'd like to learn more about the position and put your name forward for this excellent opportunity, send your CV today.