Pub Head Chef – Permanent Work – Sunderland Area
Pub Head Chef – Permanent Work – Sunderland Area
Adkins & Cheurfi are currently recruiting on behalf of one of our clients for a Pub Head Chef to manage the kitchen at one of the most popular pubs in the region.
Heading up a small kitchen team, the successful candidate will have the chance to look at the menu and be involved in discussions on ways to adapt and evolve it.
Working on an average of around 60-70 covers daily and up to 300 covers on a Sunday, the right mental attributes and experience is an absolute necessity to thrive in this role.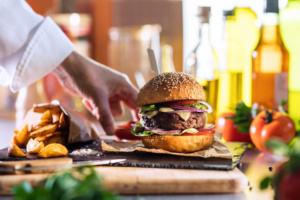 The successful candidate will: 
Be a confident leader, excelling in bringing out the best in their staff
Be hardworking and determined to maintain an excellent standard
Have experience in a managerial role
Be comfortable working under pressure and able to maintain a sense of order
Have their own means of travel, in order to get to and from the site each day
Be working exclusively with fresh foods
Have experience with stock control, menu planning and sourcing the best deals for ingredients
Be comfortable working in a small team or sometimes alone within a busy kitchen environment
If you believe that you tick all of these boxes and are excited about the role. Apply today or email your CV to liam@adkinscheurfi.co.uk.