Food Service Assistants
Food Service Assistants needed for relief work across the region
As we head into another busy summer at Adkins and Cheurfi we are expanding our quality team of Food Service Assistants to work ad hoc and ongoing assignments across the region. We provide relief catering staff to a diverse range of clients including schools, nurseries, care homes and industrial kitchens. If you are looking for flexible shifts, Monday to Friday to fit around your current commitments then this could be the role for you.
What will I be doing?
As a FSA you will be booked out on a weekly basis at a client near you who needs your help. For example at a local school to help with the school dinner prep, service and clean down to cover maternity or sickness. You will arrive on site and report to the main reception and you will then be directed in to the kitchen where you duties may include:
washing dishes and pots
food prep
stock control
serving food
keeping the kitchen and dining area clean and tidy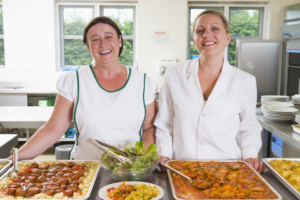 Am I suitable?
To work as a Food Service Assistant for Adkins and Cheurfi the following must apply to you:
reliable and trustworthy personality
experience in a catering environment
Food Hygiene Certificate
willing to undergo allergen and COSHH training
you must have a CLEAN DBS certificate or be able to obtain a CLEAN DBS certificate to be allowed on site – this is non negotiable
able to hit the ground running and follow instruction with a sense of urgency
strong work ethic
own transport is highly advantageous
What's in it for me?
While this sort of temp work is not right for everyone, we have a fantastic record of finding the hours and shift patterns right for our candidates in accessible locations. Try working life in a number of kitchens before taking your next permanent role and gain experience in care and educational settings. We pay every Friday and provide free uniform and career advice. Working for us you will receive holiday pay and get enrolled into our pension scheme from day one. We are a hardworking agency and many of our candidates get taken on permanently or get ongoing work that is right for them. Our busiest FSA's enjoy an excellent work-life balance and the freedom to move around and choose their own time off.
If you think that you are the right person to join our successful team then apply now. We would love to hear from you.