Creative Chef
Creative Chef needed for residential hotel located in leafy Riding Mill, Northumberland
A rare vacancy has arisen for a talented chef in a private residential property unlike any other. This extraordinary hotel for the elderly boasts stunning private grounds, luxurious accommodation and a dedicated team of expert staff on hand to provide a care experience that is truly one of a kind.
Forget everything you know about care home cooking and think modern British cuisine, carefully planned and made with the best ingredients. You will be working 40 hours per week alongside three other accomplished chefs to produce bistro quality meals for residents and visitors alike. The property also hosts events throughout the year. You will be required to plan and deliver exciting and innovative food to match the event and impress guests with your creative flair.
The successful Creative Chef will be responsible for:
Working alongside a committed kitchen team to plan modern, varied, nutritious and appealing menus for residents and visitors. Menu planning should reflect the fact that this is a residential hotel and not a care home as a such. Menus should be designed so that residents savour their food and look forward to their next meal.
Producing food to the highest standards in the style of a modern bistro.
Ordering and organising stock. Utilising all stock effectively.
Taking into account soft food requirements, other dietary requirements and personal preferences.
Maintaining all health and safety records and reviewing policies as necessary.
Liaising with other departments to ensure a smooth service for all involved.
Maintaining the highest standard of cleanliness throughout the kitchen, dry stores, fridges and freezers.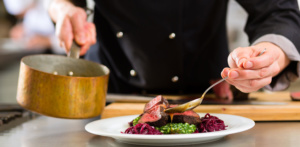 The right candidate will be:
More than qualified – with experience not only in a care environment but also in a hotel or restaurant setting.
A passionate cook with a genuine interest in maximising flavour and delivering delicious food.
Familiar with soft food requirements, allergen training and dietary requirements.
Fully qualified in COSHH and HACCP.
A real people person who enjoys working as part of team to achieve fantastic results.
An organised chef with a clean as you go approach and great attention to detail.
You must be willing to undergo a DBS check.
Creative Chef – why apply?
Spend your working days in one of the most beautiful care locations in the country.
Join the team working for an engaging, appreciative and caring employer.
Excellent rates of pay – paid hourly.
Scope for progression.
Staff incentives.
Onsite parking.
Uniform.
On site food and drink.
If you think that you meet all the criteria then please get in touch today.