Bar Tenders
Bar Tenders required for flexible weekly shifts…
The sun is shining, the birds are singing and wedding season is in full swing. We are looking to recruit a number of professional bar tenders to assist at luxury wedding venues across Northumberland. Our clients include large spa hotels, niche wedding properties and award winning locations at the top of their game. Our clients demand the best and so do we. If you think you can cut the mustard and work to an impeccably high standard, under pressure, then read on: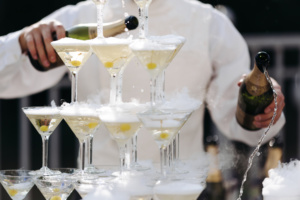 What will I be doing?
You will be booked in on a weekly basis to a client that needs your expertise.
You will arrive with time to spare, immaculately dressed in the specified uniform with tidy hair and nails.
You will then be directed to your supervisor, fully briefed and off you go…
Bar tending – both behind the bar and serving drinks to tables.
Wine service – knowledge of opening and pouring wine is essential.
Cocktails – the ability to learn on site specifications can be advantageous.
Engaging with wedding guests to enhance their experience wherever possible.
Polishing glasses and cutlery to keep the place dazzling.
Clearing as you go to maintain a tidy and efficient work space.
Stock – replacing and rotating stock as directed.
Handling cash and taking payments.
The successful candidate will be?
Experienced behind a busy bar.
In the know when it comes to premium spirits and with a basic knowledge of wines.
Confident selecting the right glasses for the rights drinks with an understanding of measurements and garnishes.
Trustworthy and reliable with a track record of professional integrity.
A superb communicator with natural interpersonal skills.
A total perfectionist who cannot tolerate a water stained glass.
Able to travel to and from rural locations for work independently.
Flexible and available most weekends.
What's in it for me?
Learn from the best of the best and accelerate your hospitality career.
Free career advice.
Great hourly rates, paid weekly.
Free online health and safety training.
Help with fuel costs where appropriate.
Holiday pay.
Staff incentives.
Gratuities.
If you are interested, available and good at what you do then we want to hear from you.