Bank Chef
Bank Chef – schools and care homes
At Adkins and Cheurfi recruitment we offer catering support to a diverse range of businesses across the North East of England. One of the roles we are now recruiting for is a Bank Chef to fill temporary vacancies as they arise at various care homes and schools throughout the region.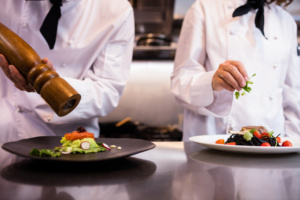 Our clients book our chefs for many reasons, including:
sickness and absence within their existing team
they have a permanent vacancy and they wish to work with a chef for a few weeks before making a permanent offer
additional support through busy periods or during big events
new openings
If you have relevant experience as a chef within a care or education environment and you would like to try temp work before taking your next permanent role then this may be suitable for you.
Duties and responsibilities of Bank Chef:
Follow on site specifications and recipes to produce high quality meals for residents/students/staff taking into account; soft food requirements, dietary requirements, personal preferences and government guidelines
Ensure all food prep is completed as expected
Adhering to all health and safety rules and maintain all records
Oversee the catering team and delegating to kitchen assistants
Serving food to students during service
Managing stock effectively
Liaising with on site staff to ensure the kitchen runs smoothly
Necessary skills and attributes include:
NVQ Level 2 in professional cookery minimum
Food Safety Level 2
Knowledge of COSHH, HACCP and soft food requirements, allergen trained
A can do attitude
Good communication skills
Professional integrity
Smart and presentable appearance – smart whites/blacks essential
Recent DBS certificate essential
Why apply?
Get paid weekly for every hour you put in
Free parking
Free uniform
Gain experience to further your career
Greater flexibility
Staff incentives
Work full time hours if preferred
Find your next permanent position
If you are interested in this Bank Chef role then please apply today for an immediate interview.