We hope you have all been enjoying the warmer weather and thought we would give you some news about how Summer 2019 is shaping up:
Firstly we would like to share some lovely news and congratulate Melika on the announcement that she will be expecting her 1st child with fiance Nick, in November this year. We can all look forward to a mini Melika terrorising the office in the near future, meaning Dean will have one more Cheurfi to answer to….
Following our first mini heatwave of the year… the crazy season for all things hospitality has well and truly arrived. We are proud to be supporting some major new clients with their events and have had great feedback about our chefs, front of house and kitchen porters. Ashleigh continues to work hard with her fantastic team of events staff and the next few months promise to be intense.
Dean and Melika continue to supply the strongest chefs in the North to hotels and restaurants from Scotland down to Yorkshire. If you know a talented chef with a strong work ethic then put them in touch with us and you could receive a referral fee in time for payday.
Liam has been busy with permanent placements aplenty and has grown his network of local clients successfully. If you are interested in temp chef work in Newcastle, Sunderland or Durham then he is your man.
Christine continues to supply chefs and catering assistants in to the care, education and industrial sector. To compliment the catering side of things we now supply cleaning staff to a number of businesses. Demand is increasing week by week and again the coming months look busy.
We have recently partnered with the Foundation of Light and will be raising money for Alzheimer's.  The Foundation, based at the newly built Beacon of Light offer a range of programs which directly benefit the local community right here on Wearside. Schemes helping people get back in to work, improve their mental and physical health run weekly. We will continue our ongoing support for local efforts raising money for people who suffer from Alzheimer's and their families. We look forward to keeping you involved with our schedule of fundraising efforts, details to be announced.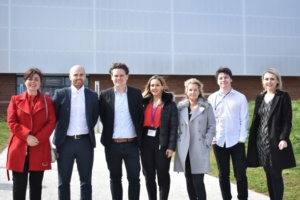 We extend our thanks for all your hard work, consistency and professional and look forward to a rewarding summer season. If you have any photos you would like to share of your dishes, your colleagues or any big events you have worked then please email them to christine@adkinscheurfi.co.uk. We would love to have a look!
Dean, Melika and the team